The DutchCraft 25 is set to join the builder's line-up of multi-purpose, capable and fun yachts, with its debut appearance planned for Boot Düsseldorf in January 2020. The full-electric, carbon fiber tender has a modular deck design that allows for fast and easy changes between operational modes such as dive boat, sport fisher, toy carrier and family cruiser.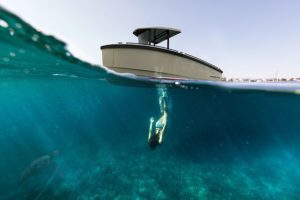 True to the DutchCraft ethos of providing practical and flexible watercraft with owner enjoyment leading design, the DC25 has many similarities to its big sister, the DC56. Dubbed "the world's most capable 56-foot yacht", the DC56 turned heads during its launch at the 2019 Cannes Yachting Festival and has been nominated for European Power Boat of the Year 2020.
"It has been a busy year for DutchCraft," commented DutchCraft Sales & Marking Manager Floris Koopmans. "With a clear remit to give owners the flexibility and fun they desire from life on the water, backed up by robust and practical design, the DC25 is a natural addition to our offering. There is nothing else like it in the size category; the sheer capacity and range of uses is phenomenal. We expect big things from the DC25 after its debut in the New Year."

A versatile platform
From the outset, DutchCraft's aim was to create the ultimate multi-purpose tender that could stand up to any number of requirements from an owner wanting to get maximum enjoyment out of their time on the water.
The key to the DC25's versatility is its low and compact drivetrain, allowing an exceptional amount of deck space to be put to use. Behind the center console, furniture and fixtures are quickly interchanged along double deck railings, such as padded bench seating or custom dive racks. When the deck is cleared, there is enough space to transport a land vehicle or a pair of jetskis.
An ideal superyacht tender, the DC25 is able to carry more toys and accessories than any other boat of its size. Load up the deck with guest luggage, provisions or accessories for a day's adventures ashore. Additional padded benches convert the DC25 into a comfortable guest shuttle with space for up to 12 passengers.
As the perfect scuba diving set-up, there is a custom rack module for up to eight dive sets, complemented by a back-to-back bench layout and storage for two Seabob underwater scooters. For showers, rinsing and wash-downs, the freshwater tank has ample capacity.
For added guest comfort on the water, high sides give an enhanced sense of safety and protection, while the stern bulwark easily converts to a swim platform for access to the water. A limousine version of the DC25 is currently in development, ideally used as a luxury guest shuttle with added protection from the elements.
A host of unique features
The designers at DutchCraft understand the importance of comfort when it comes to embarking and disembarking. With a shallow draft, thanks to the compact stern drivetrain, and proprietary hinged bow door design, guests can walk directly to and from the beach via the foredeck, without the risk of getting wet.
The center console's collapsible hardtop pivots towards the bow to reduce clearing height when stored in a tender garage, or to provide a protected space on the foredeck while underway. With the hardtop fully in situ, the DC25's height is 11.0 feet (3.33 meters), while this is reduced to just 6.4 feet (1.97 meters) when stowed.
Full electric power
The full electric drivetrain is both silent and powerful, delivering up to 75 minutes' cruising time at 32 knots or six hours at six knots. DutchCraft's in-house design and engineering teams have created a robust deep-V hull so effective that it cuts through even the roughest waves like a hot knife through butter.
"At DutchCraft, we believe electric propulsion will be key in a future that cares about ocean preservation," added Koopmans. "We are committed to investing in this positive movement, and the technology that we have developed for the DC25 is a step in the right direction."
Beyond the clear sustainability credentials that come with a zero-emission system, passengers can enjoy a peaceful ride on the DC25 without the customary roar of combustion engines.
Pricing
The DC25 has a starting price of €275,000.
DC25 brief specifications
Length overall: 8.04m / 26.3ft
Length at waterline: 7.3m / 24.0ft
Beam: 2.38m / 7.8ft
Draft: 0.82m / 1.48ft
Max persons on board: 12
Max speed: 32kn
Continuous power: 100kW
Peak power (20 sec.): 135kW
Battery (standard): 79kWh
Battery (optional): 106kWh & 127kWh
Freshwater (optional): 42L / 9.24gal
Range: up to 6 hours at 6kn
Construction: Carbon fiber
Builder: DutchCraft
Exterior design: DutchCraft
Engineering: DutchCraft
Sound and vibration control: DutchCraft