Solar panels could become the future of sailing. Maybe Alva yachts is trying to do it as a present of yachting and sailing.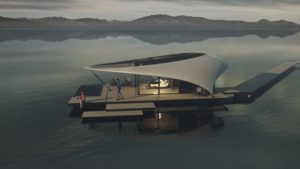 Built around sustainability
Alva Yachts builds differently to other electric boat brands, because their yachts are designed specifically around electric propulsion, not retrofitted. The bold, modern lines of the OCEAN ECO 60 and OCEAN ECO 90 are certainly seductive, but they also serve another purpose. By continuing the line of the coachroof down to the raised bow, Alva maximises the space available for solar panels.

Uniquely in the marine industry, those solar panels are shaped and fully integrated into the structure of the coachroof. At peak output, they can generate 20kW on the OCEAN ECO 60. Meanwhile, the 300kWh lithium battery bank gives the boat an optimum range of 110 nautical miles at seven knots, or potentially unlimited range at 4-5 knots. There is the option of a hybrid system with a zero-carbon hydrogen fuel cell as a range-extender, and even a kite to harness the power of the wind. It holds out the prospect of true self-sufficiency for owners with ambitious cruising plans.
As for the performance sailing market, with OCEAN SAIL 82 Alva is offering the most self-sufficient yacht of its size. It boasts innovative features such as a state-of-the-art rig, hybrid propulsion and a high-capacity battery bank allowing the boat to generate totally renewable energy under sail.

Luxury with a conscience
Underlying all of Alva's products is a philosophy. It is not enough to build beautiful-looking luxury boats; they must be as efficient as possible and capable of emissions-free operation. Using high-capacity battery banks, structural solar panels and state-of-the-art water management, Alva Yachts is also targeting the houseboat and floating villa markets.
"Our goal is to provide floating solutions,"explains co-founder and MD Mathias May. "The same technology and design ethos which creates beautiful, low-impact yachts can also drive change in the houseboat and floating villa sector. We believe the time is now ripe to push forward in the next step towards sustainability afloat. With our focus on high-end design and superior comfort, we are driving luxury towards sustainability."
By far the greatest part of a floating structure's carbon footprint comes from energy use throughout its life. Alva's advanced solar design will allow floating homes to stay off-grid in remote sunny areas, so it is perhaps no surprise that the first order comes from the Maldives.
Nonetheless, May is aware that building remains a resource-intensive business. Alva Yachts uses high-quality recycled metal, as well as recycled insulation material, and is testing solutions using cork decking and flax for composite work. The company has also pledged to offset any carbon that it can't reduce or replace by using green electricity and sustainable materials in the production phase.
Closing the loop is a top-quality design team lead by Holger Henn, which is not only responsible for the luxurious look of Alva's boats and buildings, but also for the interiors. Using a German cabinetmaker that supplies furniture for executive jets ensures a precise and lightweight finish in whatever high-end materials the client wishes.