BMT NG Project L3BMT Nigel Gee, a subsidiary of the BMT Group, will be launching its latest innovative design, 'Project L3' at the Monaco Yacht Show. Building on Nigel Gee's heritage in the development of specialised platforms, married with Rob McPherson's appetite for styling something a little bit different to the norm, this bold concept is maintaining the exceptional standard that has come to be expected from BMT concept design collaborations.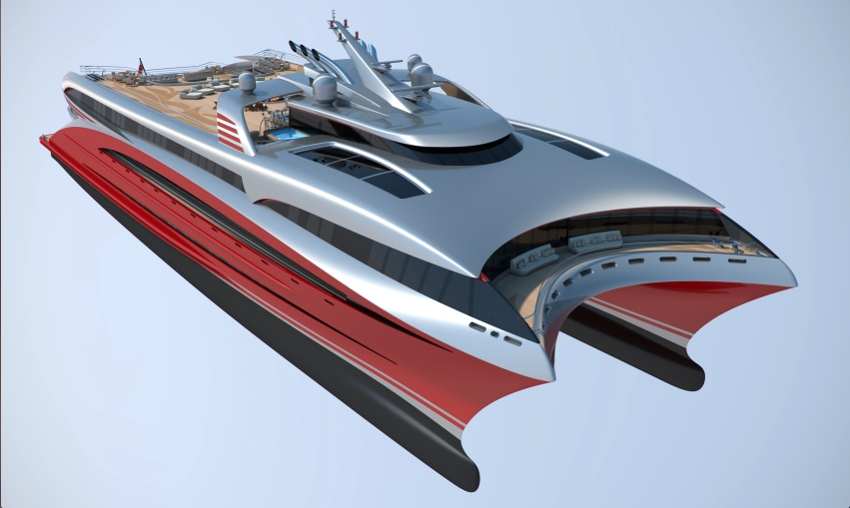 The design is based around delivering an extreme of high speed and high volume, for which BMT's semi-SWATH catamaran is ideal. On a length overall of 85m the design provides over 4200 GT, a figure more akin to a 100-110m monohull. Such space allows for entertainment and living areas similar to land based architecture and includes some unique features such as the main accommodation opening straight onto the pool courtyard. The sundeck sports an open-air fire pit surrounded by generous loungers which give perfect viewing for the giant drop-down cinema screen. A feature that is sure to be the main focus of evening entertainment. The large beam of the catamaran also allows for storage of an oversized tender including an offshore racing cat and a two-man seaplane. Once deployed, these can be moored against a number of fold-down/extendable beach decks giving easy access to the water.
NG Project L3A number of propulsion options have been investigated from a conventional system for 20 knot performance to a hybrid CODAG system delivering over 40 knots. The semi-SWATH catamaran resulting from BMT's development programmes in the naval and offshore industries provides a careful balance of advanced catamaran performance with the outstanding seakeeping ability of a traditional SWATH.
James Roy, Design Director at BMT comments, "This was both a very exciting and challenging proposal to work on as the styling needed to reflect the speed of the vessel while maintaining a high volume for the interior. Gentle flowing lines which have a sense of urgency about them have been combined with a bold colour choice to ensure that this 85m, high performance catamaran makes a statement in the harbour!" James Roy, continues, "It is always refreshing to work on a design which challenges convention and to integrate technology developed in other markets, it will take a visionary client to realise the project"