Porto Montenegro, the Mediterranean's leading luxury yacht homeport and marina village, introduces new environmentally friendly initiatives in a bid to impact positively on the natural environment. "Climate change and rising sea levels are problems faced by this generation," said Roddy Blair, Marina Manager at Porto Montenegro. "Porto Montenegro, as the leading superyacht marina in the Mediterranean area, does its best to help the case and is ideally positioned to promote environmental best practices."
Detail matters
Porto Montenegro is the world's first marina to receive the Platinum accreditation from The Yacht Harbour and Marina Industries Associations, thanks to its environmental consciousness and commitment towards building a culture of eco-consciousness. "It is a big part of our reputation," adds Blair. Porto Montenegro is situated in the heart of the UNESCO-protected Boka Bay, an area of outstanding natural beauty, and one of the world's most impressive cruising destinations. Within the marina itself, Porto Montenegro takes measures to help minimise its carbon footprint, utilising solar panels to heat water across a number of service blocks, as well as operating electric vehicles throughout the marina keeping emissions to a minimum. "They're little details, but step by step, they build up the bigger picture," said Roddy Blair.
Nature First
To protect against fires and defend the beautiful forests on the shores of the Boka Bay, Porto Montenegro
launched its own fireguard boat. The 9.79m vessel worth 400,000 euros, serves the superyacht marina and local rescue service in the Municipality of Tivat and was founded by local company, Navar Incorporated. The fireboat was named Jovana, after the daughter of one of Porto Montenegro's most celebrated employees, Safety and Environmental Protection Manager, Aleksandar Drakulović. Drakulović spent the summer of 2017 engaging in fire-fighting activities and the evacuation of endangered peoples from Luštica Bay. Porto Montenegro's ongoing cooperation with the Institute for Marine Biology supports scientific research and preservation of fish and seashell species, as well as monitoring the cleanliness of the local seas.
"The latest data suggests that the marina waters are completely safe, clean and even suitable for swimming, with no negative side-effects from the boats entering the marina," confirmed Roddy Blair.
Marina life
Taking great care to address recycling habits and fight pollution, Porto Montenegro joined forces with the Seabin project in 2016 to become a pilot partner in its testing and promotion. While the Seabin has been incredibly effective in removing floating rubbish from the marina waters, one of the key aims of this project has in fact been increasing awareness. "We have built–in infrastructure for that," said Blair. "A grey and black water pump-out system is available on all berths over 20 meters and is free of charge. There is also a paper press on site for paper and cardboard, ensuring its efficient transportation to recycling plants. Hazardous waste is collected from the yachts and disposed of through government-approved methods."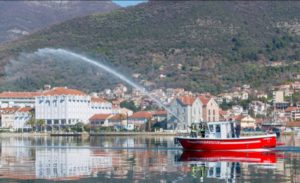 Plastic–free
As an additional measure, Porto Montenegro, purchases drinking water in large sustainable quantities which are used to fill reusable glass bottles as opposed to plastic bottles. "It looks much better than plastic and, most importantly, does no harm to the environment," concludes Roddy Blair.