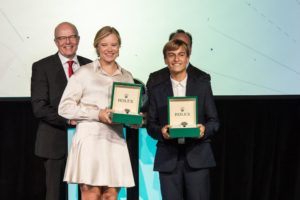 Marco Gradoni, il giovane talento 3 volte campione del mondo della classe Optimist è stato nominato Rolex World Sailor . Una soddisfazione per il ragazzo del Tognazzi Marine Village che non ha paragoni. Dopo Alessandra Sensini ecco un altro italiano sul tetto del mondo nell'ambito premio internazionale, ma soprattutto complimenti perché ha stabilito un altro record: è il più giovane velista mai premiato dalla Federazione Internazionale. Gradoni, quindi a soli 15 anni sbanca e conquista un posto nell'Olimpo dei velisti.

Rindom has dominated the Laser Radial over the last 12 months and found rhythm that was unrivalled as she secured her second world title, which has highlighted her as a favourite for Tokyo 2020 gold.
The World Sailing Awards celebrate outstanding achievement and exceptional contributions to the sport of sailing. It is the social highlight of World Sailing's Annual Conference and recognises success throughout the sport.
Alongside the Rolex World Sailor of the Year Awards, the F50 used in SailGP received the Goslings Boat of the Year Award, while Wizard won the Hempel Team of the Year Award following their success in offshore racing.
For setting a benchmark in sustainability, the RYA / The Green Blue received the World Sailing 11th Hour Racing Sustainability Award.
The Beppe Croce Trophy was awarded posthumously to Jeff Martin, who dedicated his life to sailing through his involvement in the Laser class, and the President's Development Award went to Oman Sail, for growing the sport in their nation and region.
Gradoni becomes the youngest recipient of the Rolex World Sailor of the Year
Italy's Marco Gradoni is the most accomplished sailor of his age group and from September 2018 he won every single Optimist event he participated in, securing 14 gold medals.
He won the 2017 and 2018 editions of the Optimist World Championship and made history in 2019, winning the largest Optimist World Championship in Antigua. Facing 250 sailors from 65 nations, he excelled and also spearheaded the Italian team to the Optimist Team Racing Championship title.
Speaking at the Awards ceremony he commented, "It's a dream come true to be sat here in Bermuda with the best sailors of the world. It is something really amazing for me. The list of previous winners are the most famous people of sailing and to be with them is unbelievable but I know that I have to stay focused on my goals because this is important. I'm speechless because this is a dream come true. It is such an honour for me.
"Since 2017 I have worked a lot and tried to stay focused. Every day I thought about where I had to improve and study and do things at my best level and it worked. From 2017 I won a lot and in the last 12 months I have won everything. I'd like to thank my mum for supporting me."