UNDONE Watches are proud to announce a new strategic partnership with the NACRA17 Olympic Sailing Class, as their new Official Timing Partner. The Nacra17 is a mixed multihull boat composed of one man and one woman, and is accepted as the fastest out of all Olympic sailboats. The Nacra17 class is extremely testing for all its competitors, and combines the need for brute force and courage to be finessed, while actively reading weather conditions and shifts during regattas in order to come out on top of the leader boards. With spots for the next 2020 Olympic games recently opening for the taking, the class is as competitive as ever, as teams push to lock up a spot for their country at the games as early as possible.
UNDONE Watches is excited to Launch the co-branded, Limited Edition URBAN Regatta & URBAN Skipper range with the Nacra17 Class. 200 pieces have been created to celebrate our partnership which pays tribute to both the lifestyle and technical beauty of sailing.
https://www.youtube.com/watch?v=L92TfvlA3tY
**UPDATE: its getting close to two weeks after the launch date of this Limited Edition Timepiece, and the range is forecast to be sold out soon. Our readers can get an exclusive 10 % off the last available pieces using the discount code: SAIL10 : http://bit.ly/2q1DsSX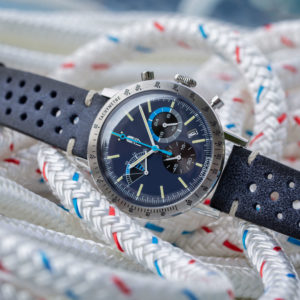 The URBAN Regatta was developed closely with the Nacra17 class to optimize it's use and ensure the design and production of a reliable on and off water timepiece. Offering a large dial for legibility, a chronograph movement for timing accuracy and a 5, 10, 15 and 20-minute counter display for timing perfect race launches.
"We are proud to be accepted as the Timing Partner for the Nacra17 Olympic sailing class, their trust in our brand reassures us we are moving in the right direction with regards to both quality and technical capabilities of our timepieces. This collaboration was another challenge for us, however gave the UNDONE team of passionate watch enthusiasts a great reason to sit down and reverse engineer what we think with the Nacra17 class, would be a great tribute timepiece which encompasses the world and lifestyle of competitive sailing." Zaid McGovern – UNDONE Watches Marketing Manager
The new range can be viewed and purchased on the UNDONE website here: http://bit.ly/2q1DsSX
Use the exclusive discount code: SAIL10 for 10% off and free shipping.
For bulk order purchases, or if you want a customized version of this timepiece for you or your yacht club please email UNDONE team member Zaid : zaid@undone.com