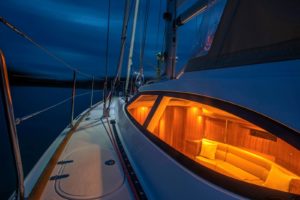 The new Hylas H48 has arrived. The latest build from Hylas Yachts was delivered from Queen Long Marine in Taiwan and made her world premiere at the Newport International Boat Show and the United States Sailboat Show Annapolis in September and October respectively. Hylas Yachts is proud to introduce the H48 to sailors around the world, and to enhance and continue its legendary reputation for building offshore performance cruising yachts that appeal to blue water sailors. Hylas worked with esteemed designer Bill Dixon of Dixon Yacht Design to achieve this mix of comfort, style, and utility in a semi-customblue water cruising yacht under 50 feet LOA.
Designed to appeal to couples and families who wish to answer the siren call of true offshore sailing or to give accomplished yachtsmen a way to upgrade their experience, the new H48 offers a spacious and comfortable evolution fromHylas's legacy models while taking sailing simplicity to a new level.
"Accomplished sailors have long sought out Hylas Yachts for boats designed and built for comfort and performance on long ocean passages,"says Andy Huang, CEO of Hylas Yachts. "The H48 continues that tradition of blue water performance, making the most of her volume while allowing her to be managed easily by a couple."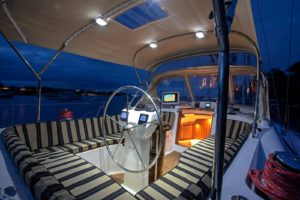 Dixon's design stays true to the builder's mission to create semi-customocean-ready cruising boats with a focus on simple sailing and interior comfort. "The H48 uses some elements from the proven quiver of Hylas attributes, including true oceangoing capability, the center cockpit, the large windows, and the swim platform," Dixon says. "But this model changes the flow on board, whether the owners and guests are moving about the spacious decks or relaxing together in the bright saloon, making the most of the onboard volume while factoring in the need for human-size spaces." Hylas Yachts and Dixon also worked together on the recently introduced design for the new H57 of which a number have already been sold off-plan.