This 46-metre high performance aluminium sloop is the first yacht to be built by Vitters Shipyard to a design by Germán Frers. The cooperation with the Argentinian designer has been a resounding success. Both the design studio and the yard have a long track record of high performance cruisers and their joint experience makes for a great combination. Together with the active involvement of the experienced owners, the teams are creating a powerful contestant on the regatta circuit. Although project 3072 is primarily designed as a cruiser, a great deal of attention has been dedicated to performance and sailing abilities. Delivery is scheduled for fall 2015.
The owners and build team made distinctive choices in the design, engineering and outfitting which will characterise the performance parameters of project 3072. An absolute novelty on this yacht will be the retractable pods for propulsion, which have been a challenging feature for the yard's team to engineer and build.
For ease of handling with a shorthanded crew, two sail stowing drums will be placed under the foredeck. This unique headsail storage system was developed in-house for the handling of large code sails, and first installed on the 66-metre sloop Aglaia. This system has now been developed further for this project.
Several other features will greatly enhance the yacht's sailing performance and enjoyment. The powerful hydraulics and efficient sail handling systems developed by Vitters will be extensively optimised for this yacht. The project will feature twin carbon rudders. And, combined with Vitters' signature rudder feedback system, tilting platforms at the helm stations will enable the owners to steer stress-free for longer periods of time during regattas.
The sleek and elegant design is typified by a super stylish flush deck. Achieving this clean deck surface has required the yard to optimise its techniques in order to accessibly store all functionalities under deck while maintaining focus on performance and weight. The items deployed include the Vitters submarine anchor system, pop-up bollards, captive winches, a below deck winch pit, deck drainage integrated in the railing, and tender storage with hydraulic crane.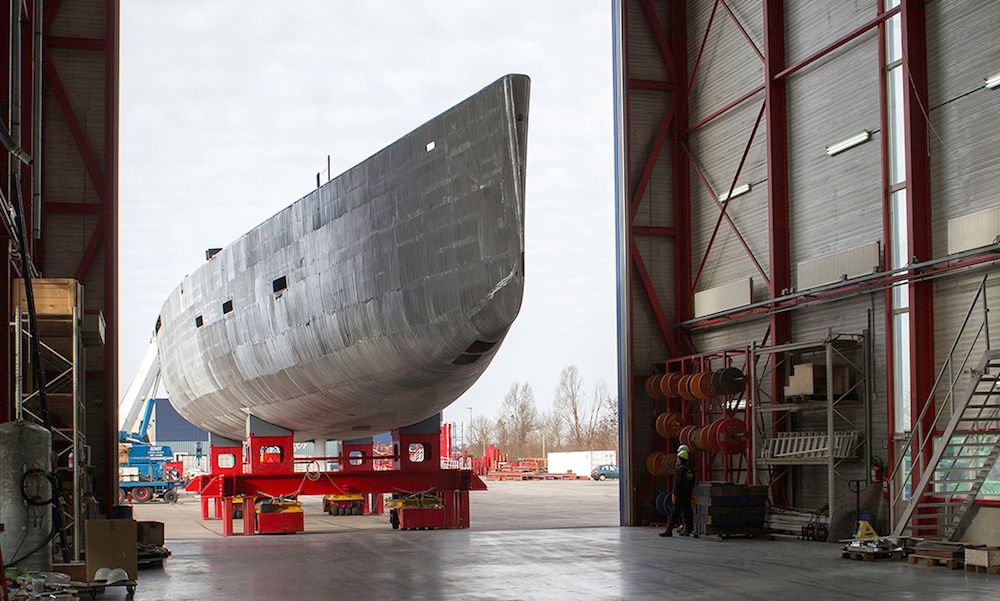 Oliver Stirling is responsible for the contemporary interior. This comfortable design integrates numerous custom-designed details. The spacious and comfortable full-beam owners' stateroom with his & her bathrooms and two guestrooms with ensuite bathrooms are situated aft.
Germán Frers' design team translated the owners' concept into a beautiful modern classic yacht. Fast and sleek lines were combined with uncompromising comfort both on deck and below. The naval architecture and technical elements confirm the owners' clear vision on design and their goal to enjoy their yacht actively and sportily. The tailor-made performance focus is a perfect match with Vitters Shipyard, which also built the aluminium hull and superstructure in-house.