How their buying behaviour is different from the boomers? Let's have a look at it. Statistics show that most yacht buyers are between 55 and 65 years old, but an emerging trend is taking place and things could change in the near future.
Lots of people are joining yachting after having chartered some luxury yacht. The younger segment of the very-affluent population considers the charter activity very attractive: it represents a new experience and has the potential to create everlasting memories.
A younger generation of wealthy individuals is now transforming the yachting landscape.
Gualtiero Giori, Executive Chairman of Camper & Nicholsons International, said in "The state of wealth, a report by camper & nicholsons and wealth-x" that in his generation " People are more attracted to experiencing luxury as opposed to just showing it off."
There is a new generation of UHNW individuals that's radically changing the face of luxury. A lot of this change is being driven by a transfer of wealth among the top tier of UHNW from the older generation to the younger one. The fastest growing segment of the billionaire population, in terms of wealth source, are those who inherited only part of their fortunes and became billionaires through their own endeavours.
First key takeaway: millennials (from 23 up to 38 years old) are looking for experiences and adventures.
This is confirmed by some rising trends such as:
The popularity of water toys
The increase of the number of explorer yachts offered by various yards
The quest for new exotic charter destinations.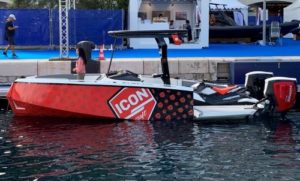 Cedric Labouyrie has tailored a recreational boat that can host many water toys onboard. We had a chat about the relationship between the younger generation and yachting with the CEO of Icon Craft. He recalls how he was first introduced to boating, and he emphasises that, at that time, the water activities were rather limited.
I grew up in the creeks (calanques) of the blue coast near Marseille. In my childhood I went boating with my Dad very regularly. He had various type of boats, from the wooden sailboat to the motor boat, and in this way he transmitted me his love for the sea. Now I try to spend good times at sea as when I was younger.  In my time the activities on a boat were limited to fishing or scuba diving while today there are a lot of new water sports that can be practised. 15 years ago we experienced the convergence of contents on the phone (photo, video, messages …), it is the same today in boating: millennials want a boat in order to practice many other activities that interest them like jetsurf, jetski, paddle, seascooter, wakeboard and scubadiving. They want to be able to book the boat at the last minute to use it for two hours and then move on.
Millennials could be defined as "smart shoppers" as they believe in collecting information, comparing different solutions and also questioning their peers before spending their money.
Second key takeaway: the Millennials buying process is very different.
They ask for suggestions from friends, and have less trust in advertising. The information asymmetry between the manufacturer and the buyer it has now been reduced. How we can reach the millennials?The most effective communication channel to reach millennials are social networks and the specialized press on internet. The new generation has definitely said goodbye to the News broadcasted on the TV at 8 p.m. that was an unmissable appointment for their fathers.
Millennials prefer short video formats, less than 2 minutes, to "consume" according to their schedule. Beware: even though the term millennial refers to the demographic segment of the population, don't be tempted to make a clear age-based cut. It is common to find a 50-year-old who behaves like a millennial, and of course not every 30-year-old behaves in the same way.
Like every time we deal with data, we need to focus on their meaning. So, let's consider this term as a behavioural segmentation, not a mere number. Today, the market is shifting slowly from boomers to millennials, and what could happen tomorrow?
The next generation of boat owners will be the Generation Z. Its main communication channel are, of course, social media, especially the fast growing Chinese platform TikTok. We opened this relatively new app and searched for the hashtag #yachts and found something really eye-catching: the Jet Capsule.
We reached Pierpaolo Lazzarini and asked him how he came up with such a different boat. It all started from the personal need to own a boat that was both extremely attractive and functional as a means of private transport and ludic activity. It seems small but, thanks to its 3,40 m of beam, it has an interior area of 18m2 . This means that is fit for the living use, because is not possible to see the inside of the boat from outside. First of all, the Jet Capsule represent a personal flexible space that can suits different scopes. This is your private jet on the water.
Third key point.
The possibility of huge customization, a solution used also in the automotive industry, it is definitely one of the best way to attract younger buyers. This boat was expressly designed to attract attention without having to own the biggest vessel in the marina. Why did you decide to upload those videos on TikTok?
Having lots of videos of this special boat, I decided to use this functional app that makes it really easy to share what you have on your phone. It's a way to promote the Jet Capsule, even if I know that the final customer is going far beyond what he sees on the app.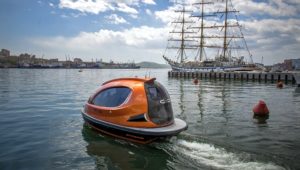 The social platform itself is not enough to guarantee a sale. People interested in the boat then search for information on the different website, schedule a boat test, and so on. Let's say that this new social media does his job in the awareness phase, the first stage of the purchasing process.
And don't forget the second order effects like getting media coverage, interviews, teenagers that show the boat to their dad.
Could TikTok be a new trend in social media to attract more people to yachting? It's early to know, but some major players of the industry have decided to be in the game.
The Boat Show has posted videos recorded during the Miami Boat Show, and Oceanco has cross posted on Instagram their TikTok video, sharing it with their 95 000 followers. So, let's keep an eye on this and be ready to ride the next wave.
Matteo Bugliari Armenio